The Gas
Guide
A comprehensive guide to gas development in Queensland.
The Gas Guide 2.0
The most comprehensive guide to gas development in Queensland.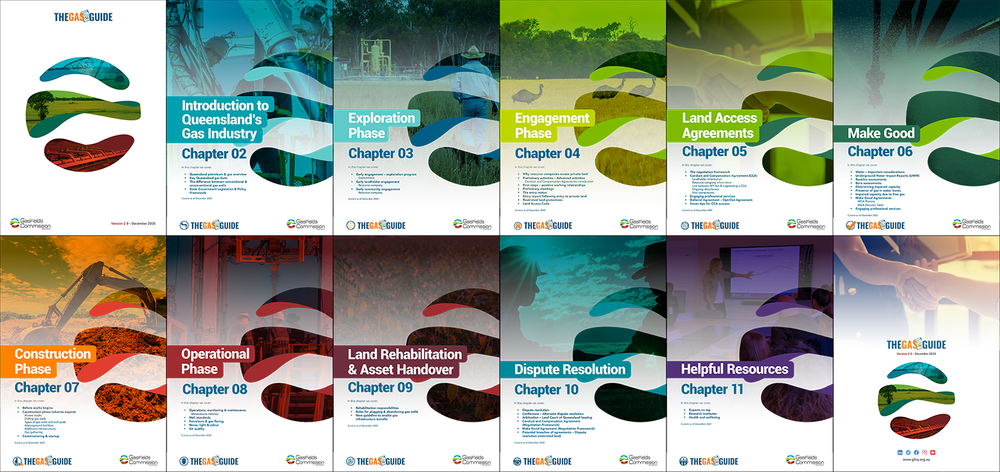 The GasFields Commission Queensland is proud to present the new and improved Gas Guide 2.0 — A best practice guide for landholder negotiations with petroleum and gas developers in Queensland.
Gas Guide 2.0 brings together all the information landholders need to know about gas development into one concise, easy to read document – detailing everything from the awarding of exploration permits, Land Access and Make Good Agreements, right through to gas field rehabilitation.
Updates to the Gas Guide 2.0 have included the addition of hyperlinks to all current and relevant petroleum and gas industry legislation, Queensland State Government forms/notices/applications and framework downloads, and recognised best practice guides, requirements and codes. Particular attention has been paid to the Dispute Resolution and Land Access/Conduct and Compensation/Make Good Agreement chapters – with the aim of clearly defining landholders' rights and obligations when dealing with resource companies operating on, or near their land.
Packed with helpful resources and designed to give landholders the information they need to negotiate a fair and reasonable outcome should a resource company request to operate on their land – the GasFields Commission's Gas Guide 2.0 is the most comprehensive guide to gas development available to landholders in Queensland.
The Roadmap
Enclosed in The Gas Guide 2.0 is an A3 Roadmap that illustrates the standard chronology of events that occur when a resource company is operating on (or near) private land for the purposes of petroleum and gas exploration or production.
Detailed advice and information on each of the chronological steps on the Roadmap can be found in the full version of The Gas Guide 2.0.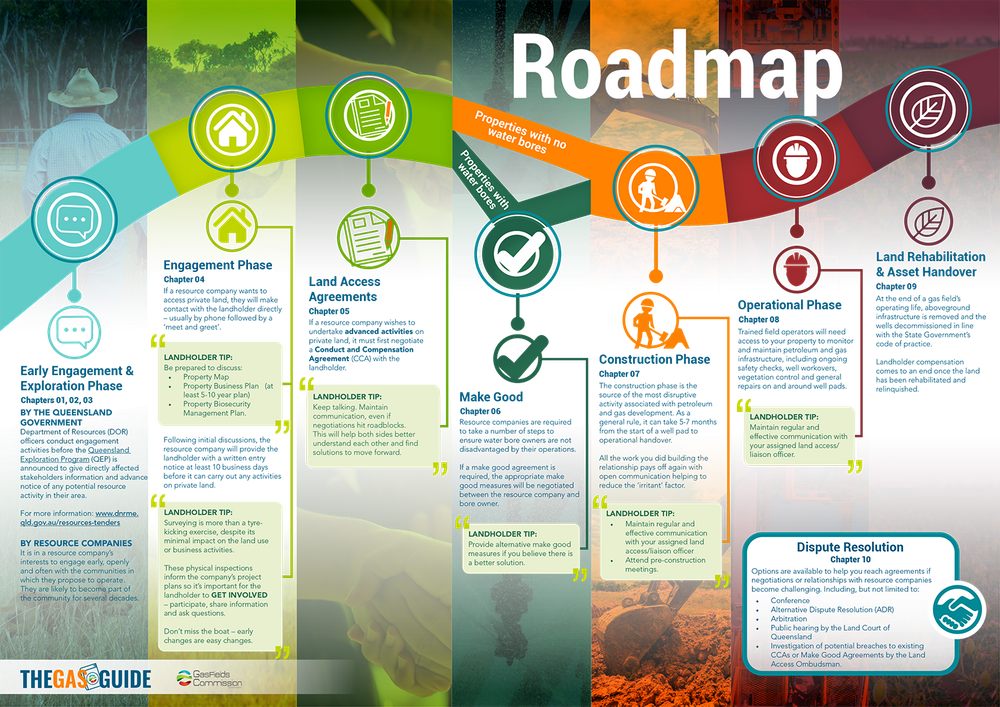 Gas Guide 2.0 Downloads
An introduction to The Gas Guide 2.0 and the A3 Roadmap
An overview of Queensland's gas industry, key legislation and policy framework facts
Detailing your first contact with government and industry and how to get involved first contact with government and industry and how to get involved early
Why resource companies need access to private land and the first steps landholders should take during this phase
Detailing the types of Land Access Agreements and tips for their negotiation
Advice and helpful tips on how to navigate the Make Good Agreement process for bore owners
What to expect during the Construction Phase and how to maintain good working relationships during this time
Information on operations, monitoring and maintenance timelines and standards
Detailing rehabilitation responsibilities, rules for plugging and abandoning gas wells, and the new guidelines to enable gas infrastructure transfers
The various options landholders have to help them reach agreements and resolve disputes
A detailed catalogue reference of useful experts, government department contacts and knowledge centres
Glossary of Terms - Understanding Resource Authorities - Petroleum & Gas Resource Authorities
Receive Gas Guide updates directly to your device
The Gas Guide is regularly reviewed and updated to reflect changes to government legislation, regulation, industry best practice processes and current research. If you would like to receive an electronic notification when The Gas Guide has been updated, simply add your contact details to our online register here, or phone +61 7 3067 9400.
Click below to flip through The Gas Guide 2.0 on your device